EXMO Review‌ ‌by Newsflurry their History, Features, Pros and Cons Deposite Rules, Withdraw Policy and lots more fact about EXMO
In the EXMO review, it was discovered that the most important asset of the exchange was to increase the number of customers, which the exchange is constantly working on. The exchange team worked hard together to make the trading convenient for the customers.
EXMO is a reputed United Kingdom-based Cryptocurrency exchange in Britain. The British Cryptocurrency platform was recognized to mount its functionality, adding new resources to the listing. 
EXMO Review
Today, this Cryptocurrency exchange is known to be a customer-friendly and trade-friendly platform in the United Kingdom. In the EXMO review, it was acknowledged that EXMO has created an interface where customers find it simple, having an intuitive interface, and permitting the users to start their journey in crypto trading effortlessly.
The mission of the EXMO provides a convenient exchange portal to trade Cryptocurrency easily. As per our EXMO review, the exchange supports entire major fiat currencies listed in the cryptocurrencies.
Website: https://exmo.com
History of EXMO
EXMO was established in the year 2014, with its main headquarters based in London.
Today, the exchange's services are accessible to customers in over 200 separate countries incorporating Russia, the Ukraine and Turkey. With its normal daily trading volume above $24 million, EXMO is listed among the major trading platforms currently active in the United Kingdom as per EXMO review.
Features of EXMO
EXMO is a recognized Cryptocurrency exchange. It works with a mission to provide a great user experience to its customers.
The exchange keeps upgrading its platform to deliver excellent trading solutions to its users.
Integrated Wallet
Business Accounts
Affiliate Program
Two-factor Authentication
Cold Storage
EXMO Popular Country
The EXMO exchange operates more than in 200 countries.
The trading platform licenses trades in utmost nations, though there are some omissions that led the exchange unable to operate in the below-mentioned countries:
Afghanistan
Angola
Algeria
Bahamas
Bangladesh
Bolivia
Botswana
Burma (Myanmar)
Burundi
Cambodia
Central African Republic
Chad
Congo
Conakry
Cote D'ivoire
Crimea (Ukraine region)
Cuba
Democratic People's Republic of Korea (DPRK)
Ecuador
Egypt
Equatorial Guinea
Eritrea
Ghana
Guinea Bissau
Guyana
Iceland
Iran
Iraq
Haiti
Lao PDR
Lebanon
Libya
Mali
Mongolia
Morocco
Myanmar
Nepal
Nicaragua
North Macedonia
Pakistan
Panama
Qatar
Saudi Arabia
Somalia
South Sudan
Sudan
Syria
Trinidad and Tobago
Tunisia
Uganda
United States
Vanuatu
Venezuela
Yemen
Zimbabwe
Pros & Cons of EXMO
The EXMO exchange was established in the year 2014.
Since then, the Cryptocurrency exchange has tremendously shown growth and reliability to the customers.
EXMO is available and operating across 200 countries in the world. Running over several countries is the biggest pros of the company.
Pros of EXMO
EXMO review found that it charges the lowest fee
The exchange facilitates users with trading several Cryptocurrency asset pairs
Users get the power of choice in trading
EXMO provides the latest update to the users on an hourly basis
It also provides 24/7 customer support
Users get a wide range of deposit options
It allows users to trade more than 46 crypto/fiat currency pairs
It charges a flat and transparent 0.2% trading fee
Cons of EXMO
EXMO review found that US clients not accepted
There are several downtimes reported by customers
The fee charged on deposit and withdrawals keep changing
There are short pairs allowed in trading
It does not provide an option for leveraged trading
EXMO Scam Over the Years
It has been more than six-year that EXMO has been established in the Cryptocurrency arena or say market.
It provides an excellent platform for customers to trade in various currencies. It has a strong IT security system, which enables it to stay protected from any fraud over the years.
There has been not a single scam reported against the exchange. This is what we discovered in the EXMO review.
EXMO App Review
During the EXMO review, we found that EXMO has recently developed a mobile app, which is accessible on both Android and iOS. The application of EXMO seems to be doing well on both platforms. The app runs swiftly and offers user-friendly features.
EXMO App Review [Google Play Store]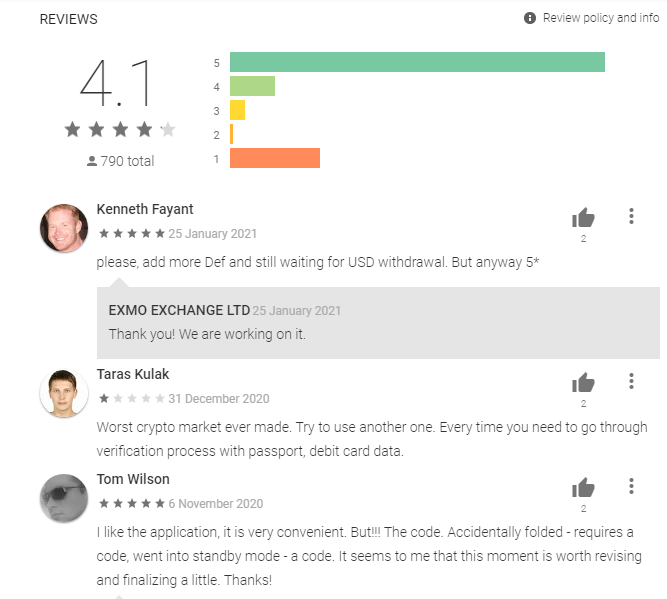 As per the EXMO review is concerned, the EXMO app on Google Play Store has received a 4.3 rating. However, some of the users have reported some issues while trading. Yet, the issues could be surfaced due to downtime that exchange reports occasionally.
EXMO App Review [Apple App Store]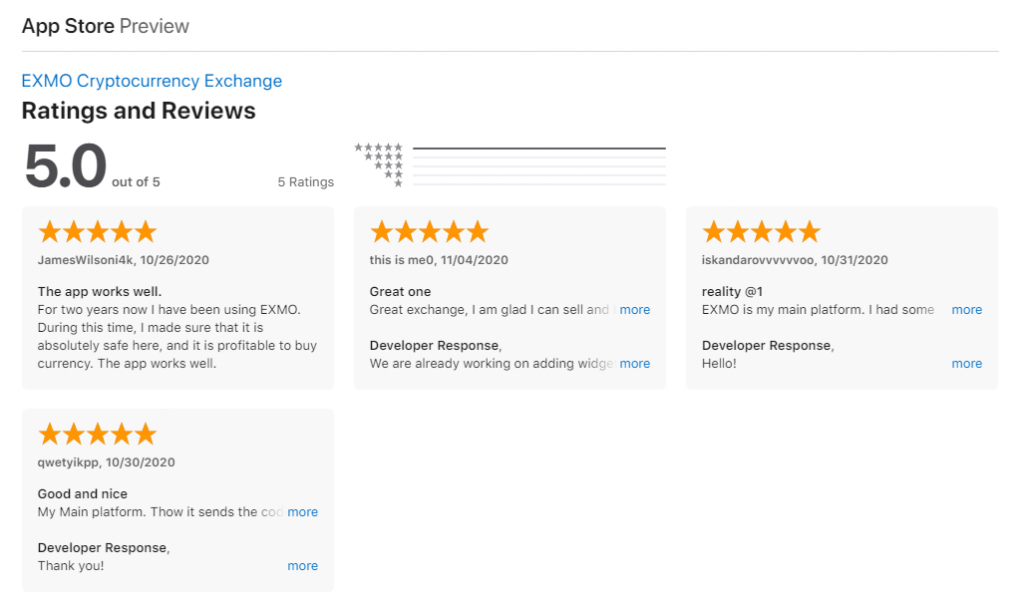 As per EXMO review is concerned, the EXMO app on Google Play Store has received a 4.8 rating. Though some of the users have reported some issues during the KYC process. The technical team is working on it to resolve the issues in a quick time.
Deposit Rules in EXMO
As the EXMO review figured out that, there are no maximum limits on crypto exchange restricting for deposits. Lowest fees are charged for each business. As per the review on EXMO, there is a 0.2% fee charged. Other fees are sustained limiting to what is charged by the payment processing exchanges only.
There are multiple payment options allowed
Bank transfers applicable in five fiat currencies like EUR, USD, UAH, RUB, PLN
EXMO may charge fees according to payment method
The charges could range from 0% to 8%
Withdrawal Rules in EXMO 
As per the EXMO review, there are no maximum limits on withdrawals seen by the crypto exchange. The fee range exists between 0.2% and 0.8% depending on the pairs availed by the customers during trading.
Maker and Taker of EXMO
EXMO charges the minimum cost for taker and maker transaction. The charges do not change according to countries, yet, it changes as per the pairs purchased from the exchange.
Short Summary on EXMO
EXMO is a limited exchange presenting low volume figures. However, the Cryptocurrency exchange has the potential to grow and expand across the continents. Today, the exchange is providing trading solutions in 200 countries.
This British exchange provides customer support services in multiple languages, which other exchanges lack. It provides 24 hours services throughout 365 days in a year.
In our EXMO review, we could outline the accessibility of multiple payment selections, instinctive trading platforms, and a multilingual website.
EXMO was established 6 years ago and since there has not been a single fraud reported by the exchange.
It has a strong privacy policy and well-established IT security to respect the integrity of the users. That's all we have in the EXMO Review.