Selecting among the top wedding venues in New York City happens to be the best activity for your great day.
New York is a great city to add to your wedding invitation card. The only challenge that you need to encounter while choosing one of the top wedding venues in New York would be location, style, and the capacity of the hall.
These are your biggest deciding factors to make the day memorable for decades.
Furthermore, deciding the right budget always stays on bill-card while selecting top wedding venues in New York City. So, decide the best location for photography in New York.
List of 10 Top Wedding Venues in New York City
Top wedding venues in New York City are the most desirable and demanding places in the region.
Therefore, you need to plan and book the venues in advance.
Getting married in New York's grant places makes you feel like a member of a royal family.
1. The Carlyle Hotel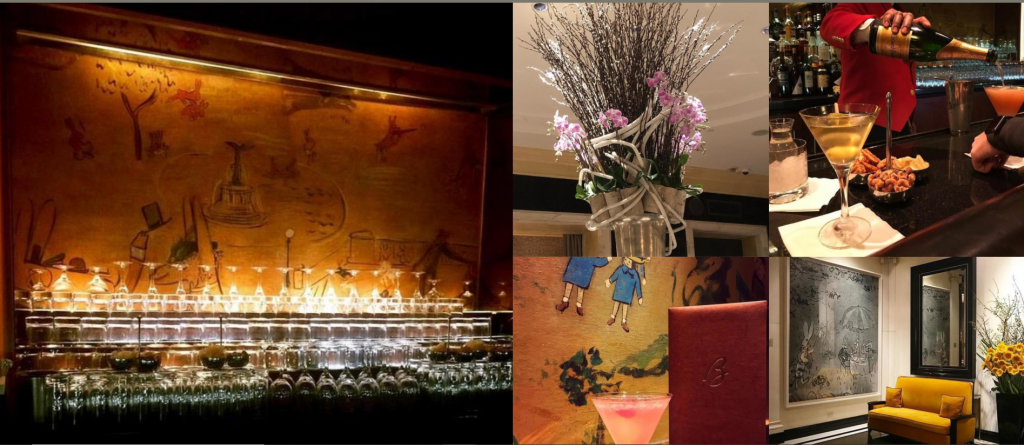 Established in 1930, The Carlyle is among the most iconic hotels available in New York City.
A Carlyle Hotel, this asset displays stylishness and that old New York appeal with an undeniable sense of innovation to boot.
For peers, it has been the home for world celebrities, leaders, sophisticated travelers, and royals alike.
The venue has the ultimate blend of modern elegance from the Foyer to the Versailles suite.
Guests can also discover the art deco styling heading here for weddings.
The entire style is inspired by an intimate dinner reception at an old glamour city.
Location: Upper East Side
Capacity: 225 max
Address: 35 E 76th St, New York, NY 10021, United States
2. The Wythe Hotel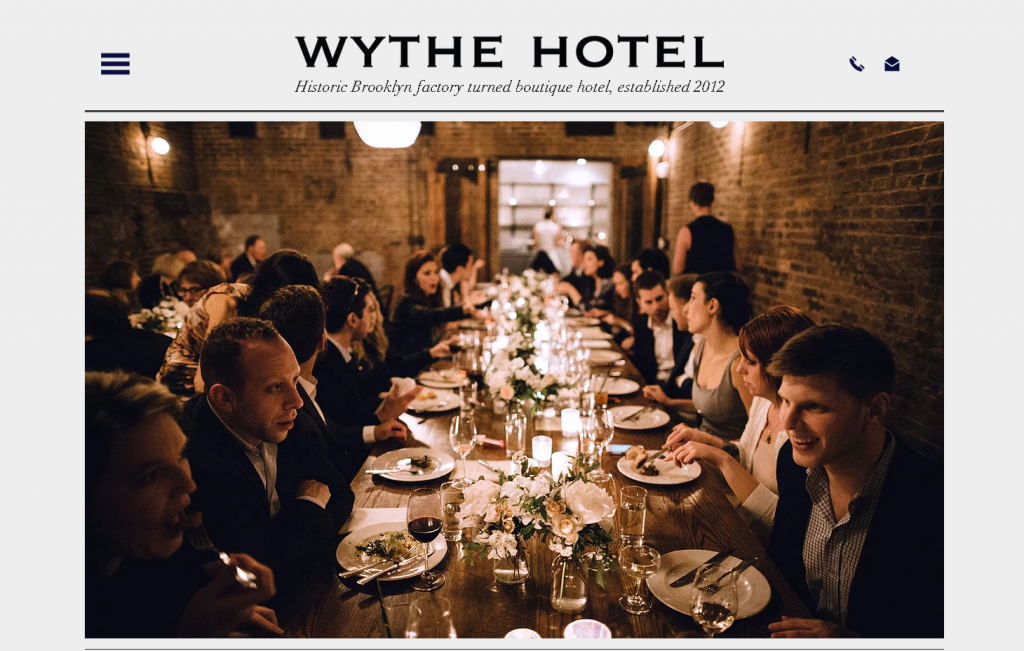 The venue has received grant weddings. Many of the celebrities in the USA had chosen the venue for their royal-style wedding.
The top wedding venue is located in Williamsburg, Brooklyn.
It is considered the hip and chic hotel situated on a vibrant corner.
Guests find the innovative original masonry, beautiful brick, a European-inspired courtyard, handmade tile floors, and unbelievable views of NYC's skyline straight across the river.
The venue event spaces a wide range from intimate, rustic, wooden rooms, industrial items, yet well-appointed, spaces.
The venue offers in-house catering incorporating the entire seasonal menu.
Location: Williamsburg
Capacity: 140 seated, 250 standing
Address: 80 Wythe Avenue, Brooklyn, NY 11249​
3. The Foundry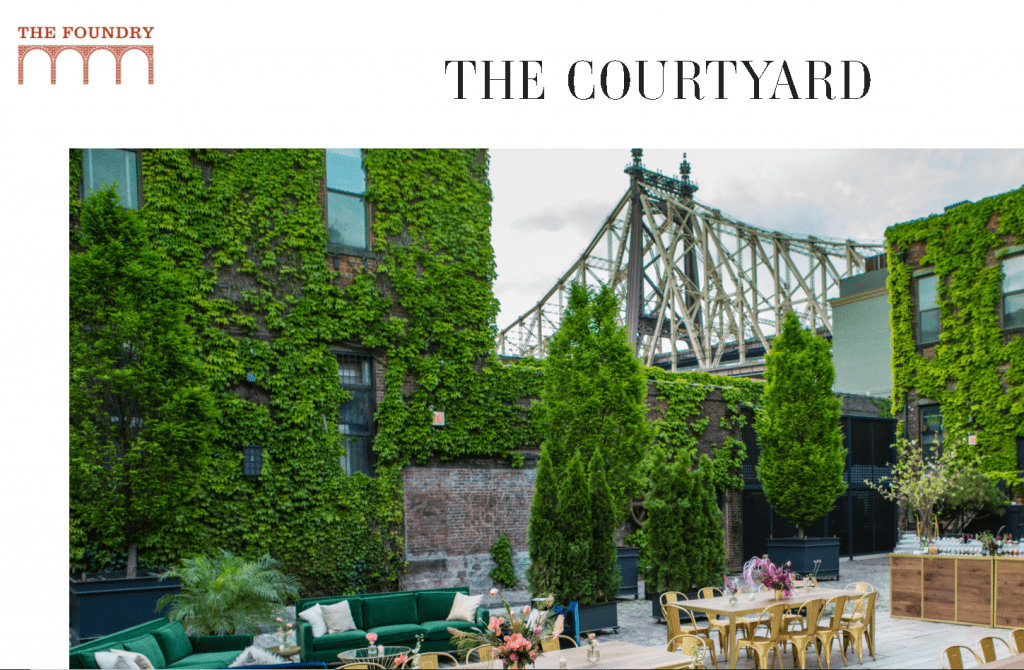 The Foundry is a 19th Century antique structure situated steps in Long Island City from the East River.
Fine paints were initially contrived here before it was developed as a premier event space hosting communal events, weddings and helping as a film site for New York's television and film industry.
Foundry is known for ivy-covered terraces, multiple green, and rawness.
New Yorkers love and desire to hire this one of the top wedding venues in New York City for their grand events.
People or couples searching for European vibes having a skyline view, then they must head here.
Location: Long Island City
Capacity: 165 seated, 200 standing
Address: 42-38 9th St, Queens, NY 11101, United States
4. Tribeca Rooftop
This wedding venue is located on a cobblestone street.
It was established in 1920. Earlier it used to be a printing press building.
Later, the building was converted to New York's best wedding location.
Guests receive well-developed and innovative services during a wedding event incorporating unpaid culinary expertise, flawless service, and sincere hospitality.
The experiences earned here by the guests are memorable.
The cost of any event depends upon the guests' visits and the services availed by the host.
Although, exceptional services are guaranteed as the area of Tribeca Rooftop comprises 15,000 square feet.
Location: Tribeca
Capacity: 400 seated, 700 standing
Address: 10 Desbrosses St, New York, NY 10013, United States
5. 501 Union
An understanding transcends and merges with prospects and imagination.
At the first-class, location and site best harmonized for weddings.
The venue features three diverse spaces to offer a grand wedding sense.
It has a covered atrium, a light-filled reception hall, and an elegant cocktail lounge.
The theme and design of the wedding venue incorporate a vaulted skylight that turns the length of the core gathering space replicating the best of old and new Brooklyn, modified Flavor Paper wallpaper, and Modo chandeliers by Jason Miller.
This space is engineering chic—with a big dose of contemporary glamour.
Location: Brooklyn
Capacity: 160 seated, 250 standing
Address: 501 Union St, Brooklyn, NY 11215, United States
6. The Beekman, a Thompson Hotel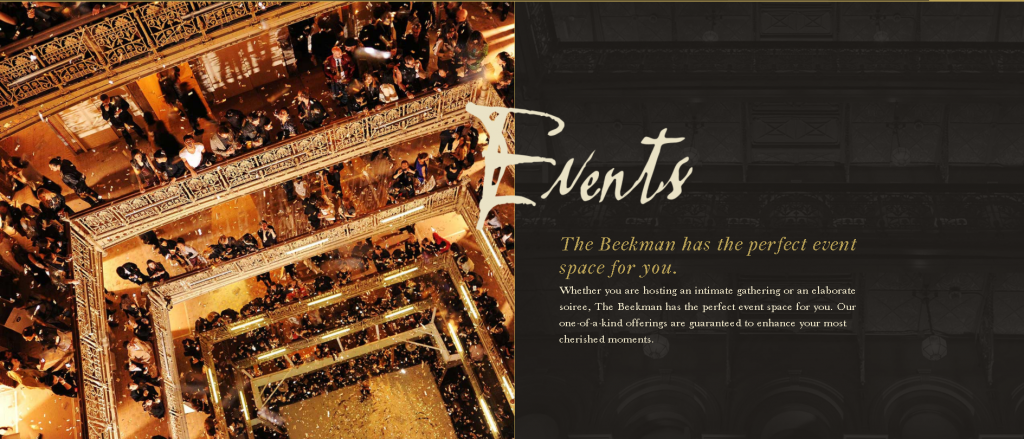 This wedding venue occupies an architectural gem, greeted by its iconic 19-story pyramidal skylight and atrium.
The building incorporates the sophisticated design of Martin Brudnizki, which is one of the ecosphere's greatest talents.
Also, it has crafted the culinary cachet of restaurateurs.
The hotel is contributing a mixture of classic allure and modern charm that brands it an unparalleled venue in New York City.
From the venue, guests can take a view of the Brooklyn Bridge and The Freedom Tower.
The cost of organizing the wedding may differ according to guests and services procured by the clients.
Location: Financial District
Capacity: 90 seated, 225 standing
Address: 123 Nassau St, New York, NY 10038, United States
7. American Museum of Natural History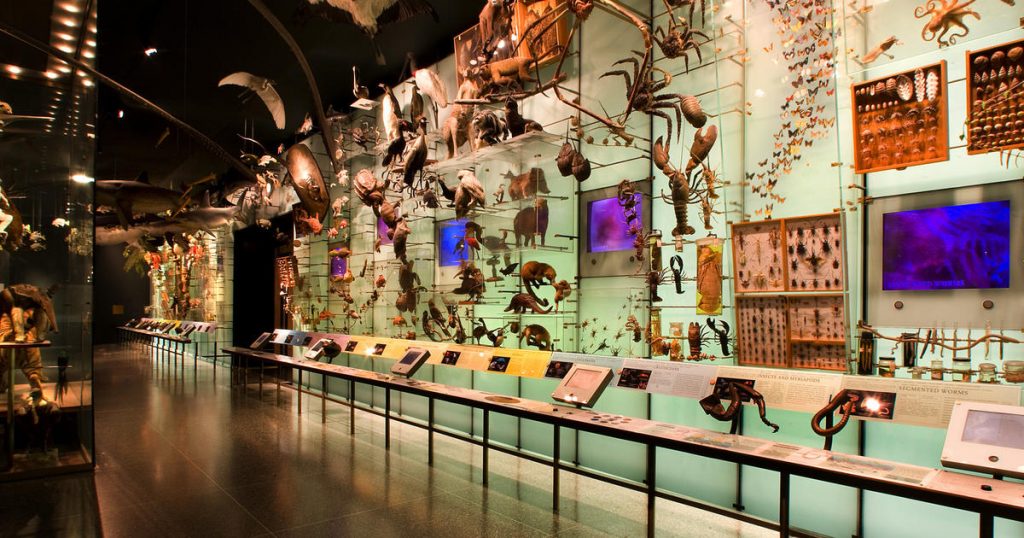 This is one of the unique and exciting wedding venues available in New York City.
A definitive venue special including the Natural History Museum is a sophisticated possibility for an attractive wedding.
It can welcome more than three-thousand guests. It can accommodate a large number of guests from 500 to 3000.
Every guest can relish cocktails in the outstanding lobby with a dinosaur as the room's showpiece.
People can dine and dance under the squid, the stars, and the whale.
Location: Central Park West
Capacity: 3,000+ for reception
Address: 200 Central Park West, New York, NY 10024, United States
8. New York Public Library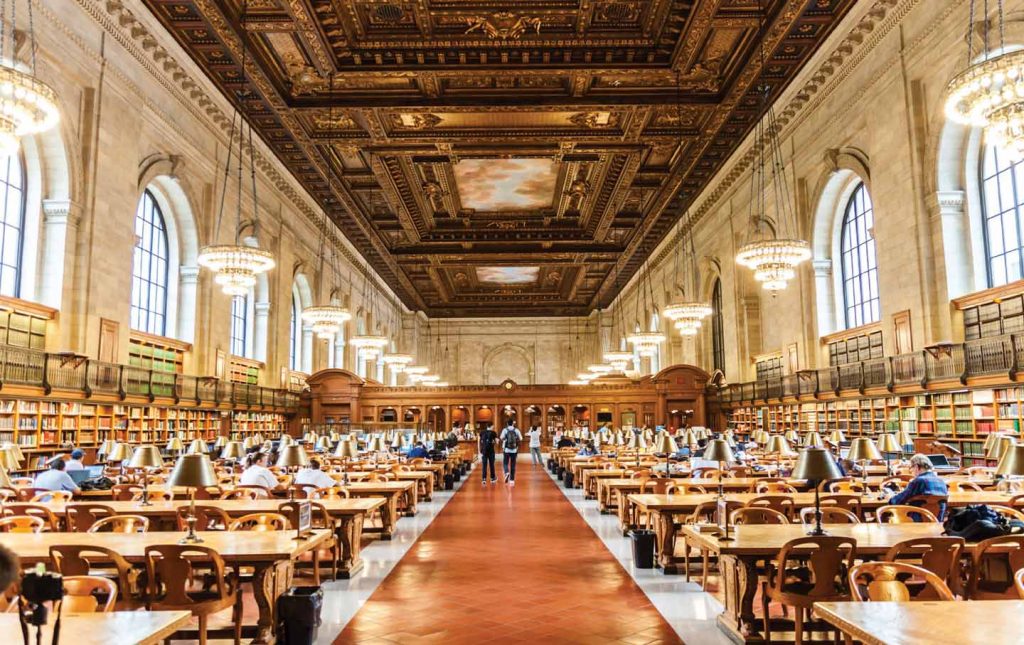 The New York Public Library comprises marble columns, sky-high ceilings, and a couple of welcoming staircases.
It is a classic and unique structure to mark your wedding memorable and grand for life.
This iconic spot has a transformable space for the dreamers who wish their wedding as a grand event in life.
The iconic building is equipped with multiple event spaces.
The in-house building makes it cool for guests to wander from one space to another room enjoying a different vibe.
It is available for romantic ceremonies to an all-out dance party.
Location: Midtown
Capacity: 250 seated, 750 standing (Astor Hall)
Address: 224 East 125th Street, New York, NY 10035
9. Weylin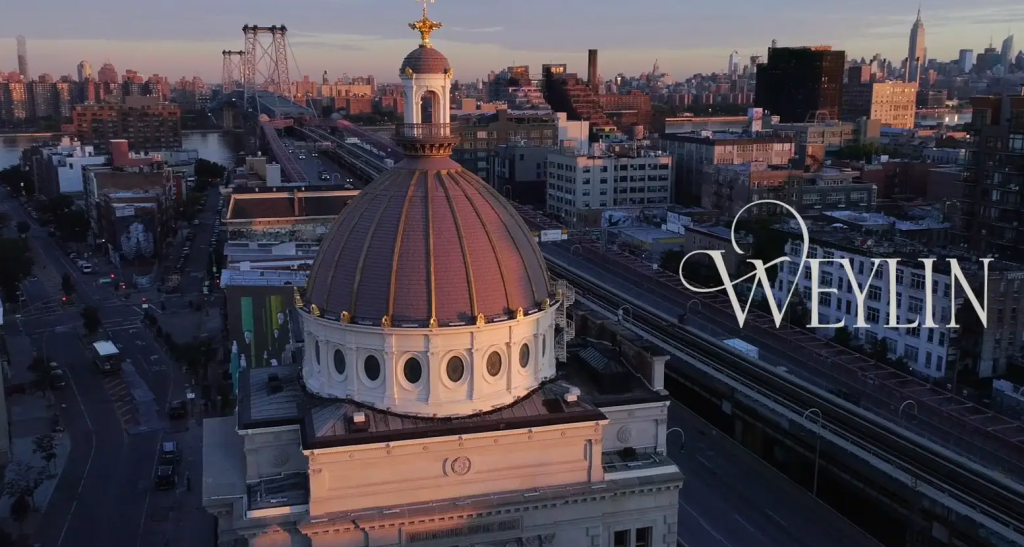 The Weylin is the site of the iconic Williamsburg Savings Bank, built by renowned architect George B.
Post and interiors designed by Peter B. Wright in 1875.
Following an award-winning restoration, the Weylin was born.
Now operating as one of the city's premier venues, with its spectacular frescoed dome, intricate mosaics, wooden carvings, and period decor as its centerpiece, this venue is ideal for a myriad of decor concepts, guest counts, and unique experiences—like an after-party in their 1875 Bar, a prohibition-era speakeasy.
Location: Brooklyn
Capacity: 75-350; average wedding size is 250
Address: 175 Broadway, Brooklyn, NY 11211, United States
10. The Frick Collection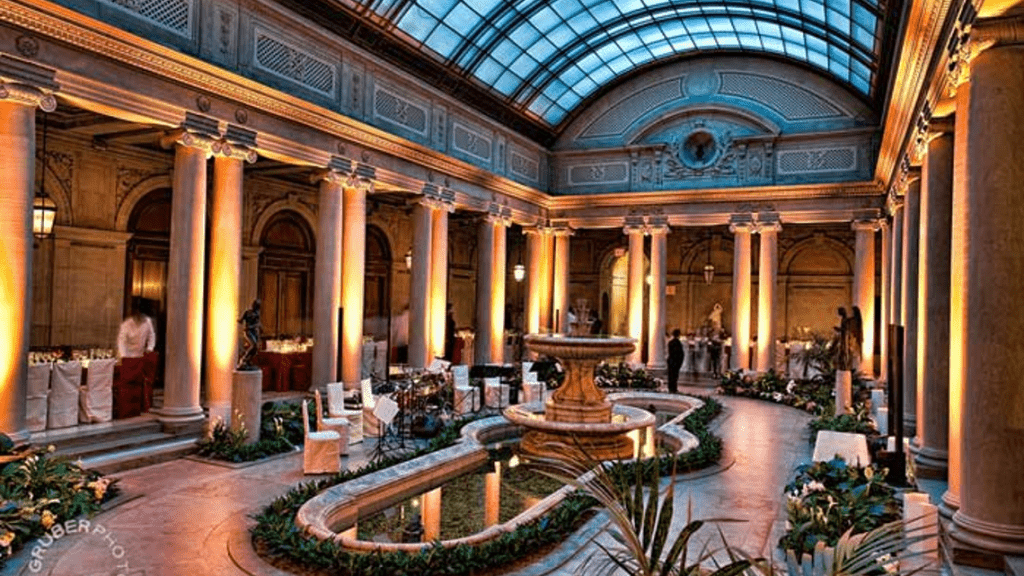 Inducing the allure of a Frick Collection in New York.
The venue is a globally acknowledged research center and museum proclaimed for its illustrious paintings and setting an excellent portrayal of European sculpture and ornamental arts.
This is one of the top wedding venues in New York City calibrating the feel of grand, extensive, and accommodating a large guest list.
This unique venue delivers a stylish yet warm setting for any reception, ceremony, cocktail party, and welcome dinner.
Location: Midtown East
Capacity: 180 seated, 450 standing
Address: 1 E 70th St, New York, NY 10021, United States
Our survey team has visited many top wedding venues in New York and found the listed venues offer great services and luxury to the guests.
Locations Where Top Wedding Venues in New York Can be Found
New York is a city of top locations, scenic beauty, entertainment, and comprises top wedding venues.
There are several wedding venues available in the town.
Also, the city is an adjoining region providing a route to several locations in the United States of America.
The top wedding venues in New York are mentioned below:
Upper East Side
Williamsburg
Long Island City
Tribeca
Brooklyn
Financial District
Central Park West
Midtown
These locations are accommodating top wedding venues in New York.
Conclusion on Top Wedding Venues in New York
It is home to light, industrial galaxies and accommodates top wedding venues in New York City.
Couples just require to design and build their event scheme from the ground up.
However, if you are searching for a concealed gem, a pastoral or romantic location, or roughly outside the box, the top wedding venues in New York City do not disappoint.
The city comprises an uptown girl, a Brooklyn bash, an It-girl, a lush, an industrial vibe, an outdoor affair, New York's top wedding venues have it all.
Wedding overseeing lush acres of woodland and amble the grounds for your representation session while your guests could bite in the courtyard or relish cocktails.
The top wedding venues in New York City include pastoral and stunning food.
Couples searching to dine and wine their visitors will probably find one of the top wedding venues listed above matching their requirements and dreams.
Couples interested to know more about the top wedding venues in New York City could subscribe to the article, can ask for more information on the comment box, or share it with friends.